Transparency in quality of care
The application of lean in healthcare is becoming more and more established. The main purpose of healthcare is to improve the quality and increase the patient's satisfaction. By increasing the quality of care the costs can often be reduced. The health care industry provides more transparency in the area of ​​quality indicators. Organisations like 'Visible Care' support the healthcare industry in providing this transparency in quality. In healthcare institutions, quality indicators are increasingly taking a visual form, even in the public domain. This transparency engenders confidence in both patient and employee. For the Jeroen Bosch Hospital in Den Bosch, we designed a quality wall onto which the quality indicators are presented in the public domain. The quality indicators are presented by the departments themselves, but the board also allows for feedback from patients.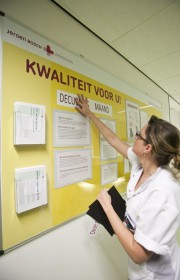 Quality board as a tool to create accountability
"We want to be as transparent as possible about the results of quality of care, so that patients know where they stand and what they can expect from the JBH. In the old location some departments started working with a quality wall. We have developed this plan in collaboration with TnP Visual Workplace into the quality board. On these boards one can find information about the quality of care in the relevant department displayed on an easily understandable way. This information can differ per department, it can for instance involve patient satisfaction, bedsores, malnutrition or the clinic's availability by phone.
Our goal is not only to inform but also to be accountable for the quality of care. Patients can call us to account at any time. Transparency and honesty are very important. We do not only show our great achievements, but also the points where performance is lower. We know from experience that the board encourages employees to continue to work on the quality of care and feel responsible for it."
Miriam Casarotto - Jeroen Bosch Hospital

Smileys and thermometers give the extra visual stimulus
Visualising the status of a specific quality goal is easy to do using magnetic smileys. At a glance you can see performance in relation to a specific objective. Smileys are available in the colours red, green and yellow and in various sizes. Sometimes a thermometer is used to present a certain level of a quality indicator. This is a magnet, cut in the shape of a thermometer, which is mounted onto the quality board. The performance level of the indicator can be shown using magnetic arrows. Thermometers can be designed by us in any desired form or shape.
Curious about a quality board?
Are you curious about the possibilities for your organisation? We would love to brainstorm about the best opportunities and solutions for you.
Tailor-made service and giving advice is what we do. Contact TnP.