Visualisation boards support the process of continuous improvement
Continuous improvement is a collective name for various improvement methodologies such as lean manufacturing, Six Sigma and Total Production Management. A breakthrough in process improvement can be achieved by an improvement method. There are various improvement methods. The PDCA method has its origins in quality management for instance and seeks to improve through the steps Plan-Do-Check-Act. The Six Sigma methodology aims to reduce variations in processes and to improve the resulting product quality. The Kaizen method focuses on improving processes through specific small steps.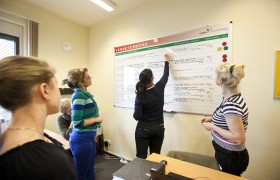 Visual management and continuous improvement
Visual management supports improvement processes simply by making the objectives, points of improvement and related actions visible. It helps people to be involved in the process, it creates responsibilities and space to address people.
"By giving them the ownership of certain actions and the possibility to link deadlines to it, you could see that employees felt more involved instantly. The educational level does not play a role in this. Team members accept each other's role because it has also been visualised now. Meanwhile, the idea is so strongly present in the department that the improvement board is a true phenomenon."
Jacqueline Mathijssen, Head of Health & Welfare, Vitalis Residential Care Group Wissenhaege
Magnetic smileys create ownership
An improvement board is a powerful visual tool to support the improvement process. An improvement board is nothing more than a clear table with several columns where employees can note down short-term actions. The board is discussed at a fixed time of day (or week) and all employees can give their feedback. By having the staff record the actions themselves and attach an "owner", you create ownership and commitment in a simple way in order to achieve compliance. You can also use the smileys on another level, by using them to indicate a status of an action. This provides an additional visual stimulus in order to achieve implementation.

Improvement Boards
Improvement boards are always customised for TnP. Ultimately, it is often a combination of the customer's wishes and our advice (experience). A board such as this one should be of added value. By using a printed whiteboard you create a professional image in respect of the employees and the organisation. You show that improvement is part of the work, not just a fun project.
Brainstorming?
Are you curious about the possibilities for your organisation? We would love to brainstorm about the best opportunities and solutions for you.
Tailor-made service and giving advice is what we do. Contact TnP.