Visualisation to support the objectives and KPIs
Setting the right goals for each enterprise is paramount. Research shows that setting goals, and controlling them leads to better results. Larger organisations translate top-level business objectives into underlying departmental objectives. This is also called Policy Deployment. A target board (or policy board) is indispensible to ensure effective control of these goals. On a typical target board the following items are displayed: the vision, mission & strategy of the company, the underlying goals, an analysis for each objective and an action plan for each goal. We developed a target board for SNS REAAL that has been rolled out in all branches throughout the Netherlands.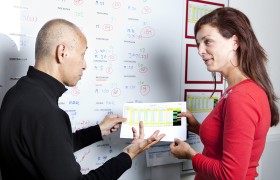 Lars Talsma - Lean Consultant SNS Reaal
"Based on these experiences we have made a model in which, besides the PDCA cycle of the employees, there was space for our strategic goals and customer feedback. We ordered one trial copy and had it tested it in the losses department in Utrecht. This resulted in a few points of improvement. We use about 60 copies of the final version of our board, spread out over several of our branches."
Magnetic windows for data presentation
Magnetic windows can be used for the presentation of data on a target board.
A magnetic window consists of a transparent plastic sheet with a coloured border and magnetic strips on the back and can be used on any metallic surface. A separate colour can be chosen for every row on the target board. Magnetic windows are available in sizes A3, A4 and A5 and in the colours blue, yellow, green, red, orange, grey and black.
Magnetic smileys status display tool
Visualising the status of business objectives and KPIs can be done using magnetic smileys in a simple way. You can see how a specific objective performed at a glance. Smileys are available in the colours red, green and yellow and in various sizes.

Brainstorming?
Are you curious about the possibilities for your organisation? We would love to brainstorm about the best opportunities and solutions for you.
Tailor-made service and giving advice is what we do. Contact TnP.