Custom-made Shadow Boards as a part of 5S workplace organisation
5S is a lean improvement method to organise the workplace. It is also called 5S workplace organisation. The purpose of 5S is simple: to work more efficiently. In short, an efficient workplace is created by the removal of waste and by arranging it in a standardised way.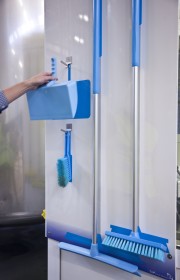 5S Method
5S stands for five words that begin with the letter 'S'. Originally these were Japanese words but the five words can be translated into English or Dutch words that start with the letter 'S'. Sort| Straighten| Shine| Standardise | Sustain. Within a 5S organised workplace, all materials have a fixed place and unnecessary materials are absent. In addition, the environment is kept clean using a standard method and the 5S state of the workplace is frequently assessed by means of an audit / inspection.
Shadow Boards
Cleaning materials and tools are items that often do not have fixed places, due to being so frequently used. Part of 5S workplace organisation is the designation of fixed locations. A shadow board ensures that cleaning materials and tools hang in a fixed place in the workplace. The shadows on the boards are very visual because of their use of colours and it stands out when a component is not present. Besides this, the employee's work is extremely well organised and it saves them a lot of time searching for the right materials.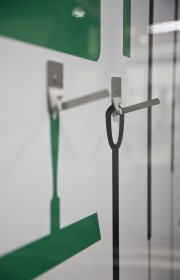 Possibilities with Shadow Boards of TnP
Together with the customer we can discuss the options for board material, layout, and of course the resulting graphic. Our design department will ensure a professional output. There are many possibilities for the board material. Our shadow boards are printed as standard directly onto PVC foam. This material is easy to pierce (hooks) and to mount on a wall or on a (mobile) stand.
Receive first design?
Are you curious about what a shadow board could look like for your organisation? We will be happy to create your initial design completely free of charge. It is also possible to receive a "test board" of the material and the print from us on loan, so you can see for yourself what the outcome could be.
Contact TnP.