Visual management in the manufacturing industry
Visual management is widely used in manufacturing. In particular the visualisation of operational processes, such as a daily production consultation, has an important role in visual management. In addition, it is an environment where, by definition, a lot of people and machines are present and in which a well organised workplace is crucial. The visualisation of improvement processes is also a key element to achieve the goal of the improvement and increase of the involvement.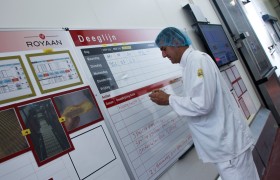 KPI consultation in the food industry
Operational excellence focuses on reducing the cost. Visualisation of the production results using a KPI board helps. The results may or may not result in
an action.
We designed a KPI board for an international food company in Belgium (see picture) on which the performance indicators are presented. The KPI board is used in the production consultations in the morning. The status of the performance indicators is shown by speedometers with hands that can be rotated manually and thermometers with movable magnetic arrows. Through these visualisation elements, the board is vividly brought to life and it is a great success within
the organisation.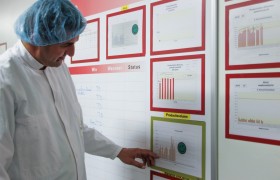 OEE consultation in the food industry
Another form of production consultations is the daily OEE consultation. OEE (Overall Equipment Effectiveness) says something about the efficiency of the production process and is used in the food industry. For food in the west of the country, we have developed an OEE board (see picture) that shows the results of the last 24 hours. The OEE results are printed on charts and hung behind the magnetic windows on the board (see picture). The agreed actions during the OEE consultation are noted on the OEE board.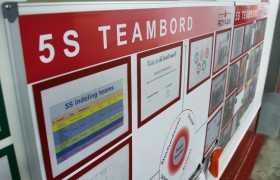 5S method in the industry
In almost every industry an efficient logistics flow is of great importance. Therefore 5S workplace organisation is often used within lean.
We have designed different types of 5S boards for the metal industry in the south of the Netherlands. On the information board, the 5S process is shown as a circle, in which the 5S boxes are all filled with information. The information is inserted in magnetic windows (see image). An open and writable space is reserved on the right for comments from the team or the workplace.
Brainstorming?
Are you curious about the possibilities for your organisation? We would love to brainstorm about the best opportunities and solutions for you. Tailor-made service and giving advice is what we do. Contact TnP.​