Visual management and lean in Automotive
The automotive industry has always been a pioneer in the application of lean processes and visual management. An important element of visual management is that it supports employees in managing their own workplace. The aim of this is to create a safe, clean and well organised environment that leads to open communication, pride and a continuous improvement culture.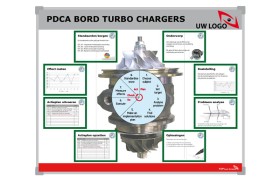 5S method
An efficient logistic routing is crucial in the automotive industry. Therefore, within the lean applications, 5S is widely used. In this industry people work in assembly 'cells'. Cells work more efficiently in a lean 5S workplace. We have developed a number of 5S boards for an automotive supplier in the east of the Netherlands (see illustration).
The teams maintain the boards with e.g. lean improvement proposals, progress charts, 5s audit results and minutes of 5S meetings. The board has become the main tool of communication for the 5S teams.
PDCA cycle within Automotive
Troubleshooting and eliminating losses are an elementary component of lean. PDCA is a widely used technique in the automotive industry. We developed a PDCA improvement board for an automotive supplier in the central Netherlands (see picture) with the PDCA circle in 8 steps. In step 1 and 2, the objective and the problem are determined. In step 3 and 4, the problem is analysed and solutions are devised. In steps 5 and 6 actions are planned and implemented. And in the last steps, the effect is measured and standardised. The team uses this improvement board as a tool to go through the lean process.
Operational Excellence
The increasing competition in the automotive sector requires companies to focus on Operational Excellence (OPEX). OPEX is achieved through clear guidance based on KPIs and improvement based on solid underlying data. Visualisation of KPIs is an essential step. We have developed an OPEX board for an automotive company in Belgium, on which the section KPIs are presented. By using magnetic smileys, the performance can be accessed from a distance.

Advice?
Are you curious about the possibilities for your organisation? We would love to brainstorm about the best opportunities and solutions for you.
Tailor-made service and giving advice is what we do. Contact TnP.