Visual management and lean in healthcare
The use of visual management in the healthcare sector is moving forward significantly, partly due to the introduction of lean improvement techniques. The goal of lean in healthcare is to improve the quality and increase the patients' satisfaction. By increasing the quality of care, the costs can be reduced. Visual management provides support in improving the quality of care and uses improvement boards in that context.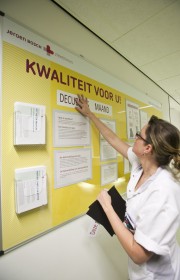 Improve quality of care
By using improvement boards, employee engagement increases and the improvement process is guaranteed. We developed improvement boards for a hospital in in the south of the Netherlands where improvement ideas were submitted using A5 improvement cards. The improvement boards help the departments to identify waste in good time and to address it decisively.
Improve transparency in healthcare
The healthcare sector is showing more and more transparency. Organisations like 'Visible Care' support the healthcare industry in providing this transparency in quality. In healthcare institutions, quality indicators are increasingly being visualised, even in the public domain. This transparency engenders confidence in both patient and employee. For the Jeroen Bosch Hospital in Den Bosch, we designed a quality wall on which the quality indicators are presented in the public domain. The quality indicators are presented by the departments themselves and the board hangs in the public domain.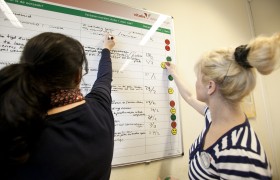 5S method in care
In a proper workplace organisation the quality of care can increase significantly. It prevents errors and reduces "search times". 5S is often implemented by 5S teams in healthcare. Materials will have a permanent place and designation allowing the department to remain tidy. For a hospital in the south of the Netherlands, we developed icons (see illustration) for the place indication of specific care tools (e.g. a po-chair, IV pole, oxygen tank or washcart).These icons are used by departments to facilitate the positioning
of materials.
Quality within the Jeroen Bosch hospital
The Jeroen Bosch hospital has produced an informative video about quality and the quality wall within the hospital. Find out more about the story of Jeroen Bosch Hospital. Read the Jeroen Bosch Hospital customer review.
Advice about Visual Management in healthcare?
Are you curious for the possibilities for your organisation? We would love to brainstorm about the best opportunities and solutions for you. Tailor-made supply and giving advice is what we do. Contact TnP.