Professional "tailor-made" shadow boards & tool boards
TnP provides professional visualisation boards, shadow boards (tool boards), designed by our graphic designers according according to your wishes. We believe in the power of Visual Management, but not in standard solutions. Together with our client, we discuss all possible solutions and think about the final solution: "a visually strong shadow board". Tell us all your wishes and give us the important information about the application of the board and we will offer you a user-friendly, visually strong solution. Ofcourse we will use our knowledge and expertise of Lean and Visual Management to offer you the best result.
Are you looking for a professional and visual solution for shadow boards? We create tailor-made visualisation boards, with the exact shadows of the materials. We will discuss all possible solutions with you, the sheet material, division and ofcourse the graphic final result. As a part of 5S workplace organisation, the shadow board needs to be visual strong and attractive.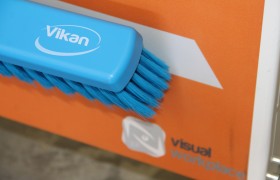 Specifications (standard) shadowboards
Forex sheet material (foamed PVC / 10mm thick / S400 outdoor quality)
each plate material possible on request
full color print, direct printing on the plate (scratch resistant)
customized design (exact shadows can be designed / Vikan shadows in possession)
design / layout may vary per plate; no surcharge
delivery excl. fastening material, forex is easy to pierce
mobile standards available (custom), free to be coated in any RAL color
price display board; between € 200.00 and € 300.00 (excl. VAT) depends on the size of the board
volume discounts when purchasing multiple boards up to max. 20% order discount
fast delivery; 5 working days (after agreement on the proof sheet)
TnP is a supplier of Vikan cleaning enquipment. This means it is also possible to purchase a complete shadow board including cleaning materials. As a Vikan supplier, we have the exact shadows of the materials in our possession.
Are you curious about the added value of a visualisation board for your organisation? We are happy to advise you and make your initial design including quote completely free of charge. Fill in the quote request form in 3 simple steps and we will get in touch with you.

Team TnP Visual Workplace
2017 TnP Data sheet shadow boards
2017 TnP Data sheet shadow board stands
2017 TnP Examples shadow boards
Step 1

We kindly request you to fill in the form below as complete as possible, so we can contact you.

Step 2

Attach a document with a rough sketch (format) of what the board should generally look like. Any file is possible, even a pencil sketch is sufficient.

Step 3

Under "Your wishes" state whether you have guidelines concerning corporate identity / colour schemes and add as much information as possible regarding your wishes.

Step 4

Send your request. We will contact you within 24 hours and send you an initial no-obligation draft including a related quote.
Your details
Fields with * are required