Professional "tailor-made" 5S tags
5S labels, also known as 5S tags, are used during the implementation of the 5S workplace organisation. The 5S label needs to be placed on materials that require 5S action. On the 5S label (5S tag) can be assigned if the material needs to be replaced, saved in another place or if it can be removed definitively.
In our webshop you can find standard 5S tags. These 5S tags are based on the experiences of our Visual management experts. In some cases these 5S will not meet your wishes and demands. Therefore, we would like to offer you the possibility to produce 5S tags completely in your own style.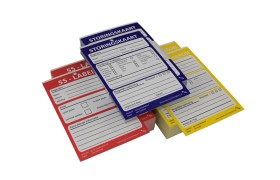 Specifications tailor-made 5S tags
Available from a minimum of 100 pieces.
Cover Sheet 80 grams; copy of the tag 170 grams.
Format: A6 (10x15cm).
Company corporate identity (logo, color, layout).
Customized text formatting.
5S advice from our experts.
TnP is the supplier of Visual Management tools and therefore we offer you a complete solution. In our webshop you may find supporting products for your tailor-made 5S tags. For example, we offer you magnetic leafletholders A6 in which you could store your 5S labels directly on the whiteboard or on another magnetic surface.
Are you curious about what we could do for you? Follow the steps below and fill in the contact form as complete as possible. We would like to give you advise about Visual Management and we could create a first design and a appropriate quotation, totally free from charge.
Team TnP Visual Workplace
Step 1

We kindly request you to fill in the form below as complete as possible, so we can contact you.

Step 2

Attach a document with a rough sketch (format) of what the 5S tag should generally look like. Any file is possible, even a pencil sketch is sufficient.

Step 3

Under "Your wishes" state whether you have guidelines concerning corporate identity / colour schemes and add as much information as possible regarding your wishes.

Step 4

Send your request. We will contact you within 24 hours and send you an initial no-obligation draft including a related quote.
Your details
Fields with * are required