Visualisation for communication
"As an external consultant I was already involved in some implementations of lean principles, but without guidance, they did not endure," says Pascal de Meulenaer, lean manager at Farm Frites. Two years ago he was employed with the potato giant to implement lean principles sustainably and initiate the associated behavioural changes. Since that time there has been a lot of progress.
Other strategies, other methods
Farm Frites grew into a renowned multinational company in more than forty years, but it is still an independent family business that remained close to its roots, despite the enormous growth. Farm Frites is still a potato processing company with 'warm contacts' with farmers all around the world and they even manage their own potato fields. Two years ago, the strategic objective changed: the focus shifted to the fast food segment, while Farm Frites was mainly active in retail at that time. It was the direct reason for hiring a lean manager, in the person of Pascal de Meulenaer.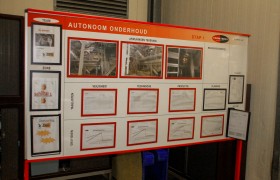 Highest demands as standard
"Farm Frites has always been committed to high quality products, but the fast food giants that we consider to be our best customers have even higher demands on the whole production process and infrastructure. We decided to make the highest demands our standard, so we can satisfy all our customers," explains Pascal. This meant that there was work to be done, including a cultural transformation within the company. "To create support for the improvement processes that I had in mind, I had to work on all levels of the organisation," he says. "Of course a clear vision must be developed and budgets must be freed up, but changes imposed from above to the rest of the organisation simply do not work. Employees must feel the benefits themselves and they have to grow in their role, otherwise each method is doomed to fail."
On the road to process improvement
De Meulenaer wanted to get to work with process improvement according to the TPM (Total Productive Maintenance) principles, of which 5S is one of the pillars. To prepare the organisation for this, one more important step had to be taken first. "In order to set a successful improvement process in motion, the staff occupancy rate must be at least 80 percent," explains de Meulenaer. "So we first invested in filling our vacancies. We scanned all candidates against our values​​: responsibility, integrity and cooperation. These are the qualities we look for in our employees, because in order to allow the lean process be successful, we need the cooperation and support of everyone in the organisation."

Professional visualisation
Consequently, a 5S programme was launched in the plant, at first without the 5S boards. "As visualisation is actually essential for these types of procedures, I manually tracked some results on the infoboards in the first stage. Soon I realised I was still missing something," Pascal de Meulenaer continues. "This was when I started looking for 5S inspection boards. I found them at TnP Visual Workplace. They actively contributed to designing the boards, which really helped me. With their in-house knowledge, they have translated my wishes into professional visualisation with which we can manage quite well. These boards have a certain appeal, not just to customers, but also internally, to the employees. They offer us a tightly organised environment that is representative and clear at the same time and that invites you to use the boards and to organise your own work."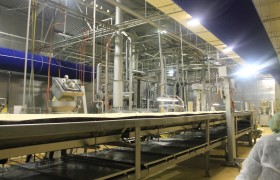 Communication
The boards are designed for people who work in the different areas into which the plant in Lommel has been split. "They need to result in action lists of what needs to be done periodically in order to maintain order and tidiness," explains de Meulenaer. "There have to be advance signals, for example: please note, the ceilings must be cleaned in two weeks, order aerial platforms. People need to start planning and think in advance, instead of just thinking, because then you will be too late. The challenge is to inspire people so that they want to maintain the system. The boards support this, they ensure communication. People have to respond to what is written on those boards, whether it is good news or bad news."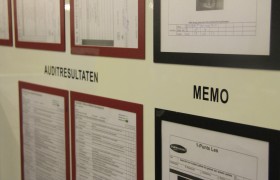 More boards
After the 5S board, more followed. "For all the initiatives taken in the context of 5S to endure, there must be a behavioural transformation. That is why we started World Class Manufacturing (WCM)," says Pascal de Meulenaer. And this transformation was made: "Other departments started asking for boards. They also wanted the means to keep their department organised. We are now preparing for the next step: first-line maintenance, the core of WCM. That includes, in addition to a first-line maintenance board, a safety board and a root cause analysis board, all from TnP Visual Workplace. We will officially begin using them in early 2014."
Metamorphosis
The changes in the context of lean manufacturing were more radical than expected beforehand. In Lommel, the process brought about a complete metamorphosis. "We consider this to be added value for the company. The beauty is that we have created something in Lommel which has grown into something that is adopted worldwide. It has even been included in the strategic targets," concludes Pascal de Meulenaer.