"Visualisation stimulates new way of working"
The ANWB is synonymous with mobility. For more than a century the ANWB has promoted the interests of its members and provided tailor-made products and services. The best-known of these is probably roadside assistance. But the ANWB also provides insurance, travel and leisure products. In 'De Rotonde', the store in the head office in The Hague, there are a wide range of products on offer. This part of the building recently had a makeover, in line with the new format being rolled out across all ANWB stores. New colours and icons make everything even clearer for the customer.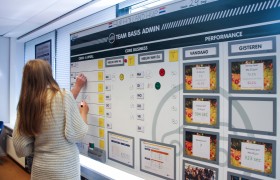 A new way of working
In conjunction with the new look of the stores, the Contact Centre also underwent a transformation. The department was renamed the Member Service Centre and given the same decor and colours as the stores. "The aim is to convey a more consistent image across all departments where customer contact takes place," explains Bart Ellisen. "Whereas previously we mainly responded to customers' questions, we now focus somewhat more on sales and cross-selling, with an advisory role. For example, if someone calls us about insurance because he's going to France, we tap into that by letting him know that the ANWB also sells the toll badge that he'll need there. In short, we want to enhance the value of our customer contacts, so that the Member Service Centre continues to play an important role."
Transparency and visual incentives
To support this new way of working, the department now has a number of boards on which it can keep track of its results. Each team has its own board. "Those boards let us see what we're selling and how much," says Elissen. "That give a huge boost to employee employment. On the one hand everyone can see what the targets and plans are for a particular period and on the other hand every employee chalks up successful sales on the board, so that the results are immediately visible. That also ensures transparency. Of course the results are also recorded digitally, but then there's no constant visual incentive. You see employees becoming competitive and doing their utmost to get as much out of it as possible."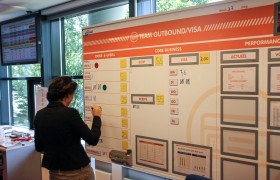 Specialist
The boards are supplied by TnP Visual Workplace. Bart Elissen came into contact with TnP through the ANWB Online department, which had previously placed an order for magnetic scrum boards. "I thought the boards looked good and professional and decided to look at them on the website. There I saw that TnP specialised in the visual support of process improvement management," he continues. "We looked at various suppliers, including in the company that provided the decor for the stores, but we found that their product range was not specialist enough. At TnP Visual Workplace I found exactly what I was looking for."

From sketch to detailed end-result
Elissen sent a sketch of what he roughly had in mind via the TnP Visual Workplace website. With assistance from Karen Bouten of TnP, his idea turned into the result we see now. Elissen: "I wanted something uniform, with an image consistent with the ANWB and the Member Service Center. I'd had an idea, but it was not entirely crystallised. The design ultimately went back and forth a number of times and thanks to TnP's advice and expertise we're now completely satisfied with the end-result. I wanted something attractive that had been worked out in detail, and that's what I got. What's more, the boards are sufficiently flexible to be deployed for a range of special offer periods and seasonal products." Karen Bouten adds: "The board are different in each team. We started with one variant of the board and then perfected it. We then developed the other boards on that basis, with the same look and feel in each case."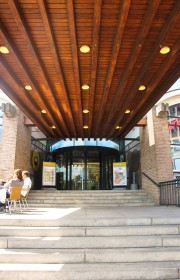 Team spirit
We started using the boards midway through May, when the summer campaign was launched. The various teams responded enthusiastically. Employee Trishia is very positive: "It's very useful to have a clear picture of the targets, the number of phone calls expected and the sales scores. When the boards were installed, we were given a brief explanation. That was actually all we needed, because the intention was immediately clear. I think the smileys are great, too. They let us see literally at a glance how we're doing. This board encourages us to achieve the targets and to compete with other teams. It really is our board, so we've given it a personal touch with photographs of the team and other things we're interested in. We use it a great deal and often we meet up next to it. That means there's more interaction, and that boosts our team spirit."
Want to know more about the possibilities?
If you would like to know how your organisation could benefit, we'd be delighted to brainstorm with you and help you work out the best options. We specialise in providing customised products and advice. Contact TnP.