Create your own magnets with magnetic printable sheets
Visual communicating, we are doing it more and more. Actually, that is not very surprising as 65% of the world population is visually set. Our brain processes images faster and more easy than words. As Visual Management experts we advise businesses to implement visualisation boards with appropriate visualisation materials in support of the LEAN-theory.
Purchasing an tailor-made visualisation board or tailor-made magnets can be high-threshold. But still you would like to use your whiteboard on a more creative way or to show your logo or corporate identity on your whiteboard. Than the magnetic printable sheet could be the perfect solution.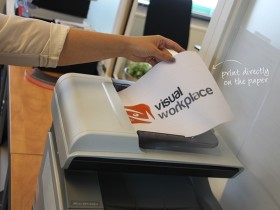 The benefits of this product
Our printable magnetic sheets offers you different possibilities. With this product, you are able to print every image or text. The magnetic sheets are suitable to be printed with laserprinters and are easy to cut. The paper has a matte finish, whereby the paper is resistant to scratches and the inkt is well absorbed in the paper. This provides deep and vibrant colors and a professional finish. Because of the strong magnetic adhesion it is possible to place two magnetic sheets over each other.

Applications of printable magnetic sheets A4
Printable magnetic sheets allow you to be as creative as you can and visualise your creations on magnetic surfaces. This product is suitable to be used by business customers but also by private clients.
Business applications of printable magnetic sheets
Below you will find various inspiring applications for the workplace
Make your company logo magnetic by printing it on magnetic paper, this creates recognition and commitment;
Print your own designed symbols and icons to support visual management;
Place your own designed headers beyond visualised documents on your white board to make clear at a glance where the documents are about;
Make your employees aware of how they should organize their workplace with before- and after pictures, printed on magnetic sheets;
Create an Personnel board

with pictures printed on printable magnetic sheets;
Make your business card magnetic by printing it on printable magnetic sheets. Allow your business relations to hang your business card ,for example, on their refrigerator.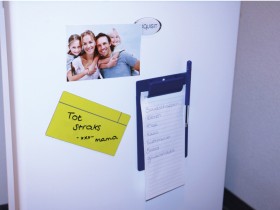 Private applications of printable magnetic sheets
This products is also suitable to be used by private clients. Find some applications below:

Make an daily schedule for your children by using icons and symbols;
Print your cleaning schedule and place it in a place your roommates will notice;
Scan the beautiful drawings of your kids, print them on magnetic paper and give them as gifts to grandma and grandpa;
Print your favourite pictures and inspiring quotes on the printable magnetic sheets and give them an special place at home.

As you see, this product offers you different opportunities. Be creative and try our printable magnetic sheets
Good luck and have fun.

Melissa