Lean 5s create an continuous improvement culture
A well-organised workplace where all materials are easy to find, and everything has a fixed spot. Whether you work in manufacturing, healthcare, or ICT, everyone likes an organised workplace. Workplace organisation is often carried out using the 5S method, a method that originally comes from the plants of car manufacturer Toyota. A clearly structured workplace that leads to a more efficient way of working, employees that deal with it in a disciplined way, with the objective of creating a continuous improvement culture.

As you maybe know or expected, the 5S method contains of 5 steps: sort, set in order, shine, standardize and sustain. The first two steps are very visual and show results very fast. These steps are a solid base for a organised workplace. The remaining steps are to inspire the employee to be committed to Lean 5s. In practical, this is the biggest challange. Most companies use 5S to work organised quickly. As a short-term project, this may work very good but holding on to 5S on long-term requires much more.
A good start is half the battle.
During the first step, "sorting", you'll roam with a scrutinising gaze through all corners, nooks, and cabinets of your workplace. The frequency of use of an item determines its eventual position and its distance from your station. Personally, I always find this step revelatory. It is surprising to see how fast a work station can degrade to a space with obsolete and/or useless stuff. After this step I've regularly found myself hauling away literally pallets loaded with material. My winner's tip is, though, to keep your "harvest" up your sleeve for another moment. In their enthusiasm, people tend to make some errors of judgment on the necessity of items. As a result, the item needs to be re-purchased later on. At this stage it may help to mark material you have doubts on with a 5S-label.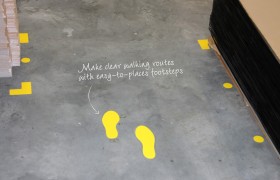 The power of marking
During the second step of 5S workplace organisation, "set in order", you give your materials a fixed spot. You can mark these spots, for example, with labels, floor tape, or paint. If you're not sure yet if a designation is going to be definitive, I recommend starting by using stickers and other temporary markings. At one of our clients, the floor markings are applied directly in the tiling, by using coloured tiles. That's a rather rigorous implementation of the 5S method, but this type of choice is always subjected to a careful process of decision-making, involving the shop floor.
Assurance is always difficult
On the third step of 5S workplace organisation, "shining", the complicated part starts; assurance. Devising a cleaning plan is a time-consuming task. It's less visible and compliance requires discipline. Cleaning, after all, also means inspecting. A good cleaning plan is the key to proper assurance. I see many teams struggling with devising a good and workable cleaning plan. Because it's not something you grab from the closet when you're expecting important visitors, but something that must be an integral part of the job, and that's where few teams succeed. A powerfully visual tool is a shadow board where cleaning material can be put up. In one of my following blog posts I'll deal with the dos and don'ts of a cleaning plan.
Make it a routine
During the fourth and fifth step of 5S workplace organisation, discipline is tested further. Step 4 is standardising "How do we ensure as a team that the first 3 steps of 5S remain assured, and are therefore carried out regularly?". I know from experience, that the tool "5 minutes of 5S a day" can work well. This way, you make sure that staff stay in touch with it daily, that they remain involved and own their responsibilities, and that 5S becomes a part of the job.
Sustaining successfully
A successful implementation of 5S can be obtained by ensuring that 3 issues encounter solid support:
Good structure/organisation
Involved staff
The right tools
In what part of the organisation are we going to position the 5S method? Which decisional structures are we going to commit? Staff involvement is the basis, create it by: making them a part of the development of standards and targets (ownership), expressing appreciation and through information/training; "does my colleague understand why we're doing this?". On the other hand tools are very important. Are you providing your team with the proper tools to enable improvement? A 5S board can be deployed, for example, to discuss improvement proposals/actions, and audit results.
Visual tools
As a Visual Management expert I can only advise using visual tools for the implementation of the lean 5S method. Make results, actions, and follow-up transparent by using 5S team boards. Also shadow boards, floor lining, floor marking and 5S tags give support, and the visual stimuli that sometimes are needed.
Good luck!