"Get that tape off the wall!"
On a 5S organised workplace, all materials have a fixed place and all unnecessary items are stored. Organising a workplace for efficiency and effectiveness seems to be simple, but in practice it could be more complex than you might think. Not every space offers the possibilitie placing marks on floors or walls. A permanent place to place documents, photo's and other important information is often lacking in the workingarea. That often results in people placing documents and other essential information on the nearest wall with adhesive tape.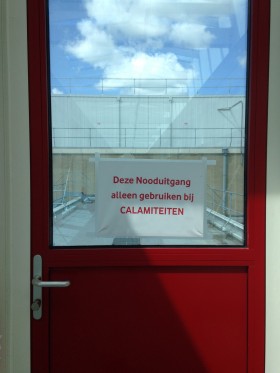 Usinig tape on walls and floors is not a big succes in production environments. Still I see people using this shortterm and practical way of presenting information all the time. As a result: short after placing documents on the walls with tape, the result is acceptable. But after a while, more and more tape comes off from the walls and the placed document warps because of the moist and dusty environment. Will the document or the picture still be visible enough? Does this practical way of visualising leave a positive impression on visitors, auditors, management and employees? The answer no, not at all. In short: using tape to visualise important documents is a thorn in the eye of every person who supports visual management.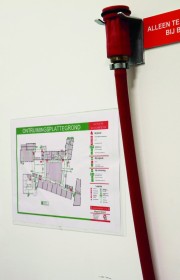 The solution
Fortunately there are different possible solutions to eliminate the enormous use of tape: the selfadhesive 5S pocket or the selfadhesive magnetic foil included a magnetic window.
Selfadhesive 5S Pocket
The selfadhesive 5S pocket is a plastic sheet where documents and pictures can professionally and safely be visualised in.

Selfadhesive magnetic foil (incl. magnetic window)
With the selfadhesive magnetic foil and a magnetic window you can simply create your own magnetic surfaces. First, you place the selfadhesive magnetic foil on the desirable place and then you are ready to visualise your documents or pictures by placing magnetic window above.

The selfadhesive 5S sleeve and the selfadhesive magnetic make it possible to visualise information in
a workplace on a professional, hygienic and visual strong way:
· Pictures for workplace organisation;
· Instructions (EPL's);
· Workplace requirements;
· And so on…
Both products allow you to present important information in a clear way and can be placed under almost all circumstances. Are you also going to help outcasting tape in the workplace? Good luck!