Discipline is the key to 5s
The 5th step of the 5S method is about the discipline it takes to use and maintain the 5S system on a daily basis. In most of the successful businesses we support, we see that 5S has became a fixed routine, and that it is part of the corporate culture. A critical element in the ensurement is to hold on to frequently criticizing the state of the workplace with an audit. It is the task for the department staff, the management team or anyone else to look at it afresh to reach the objective goal.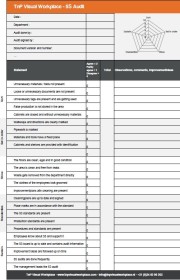 5S Audit
Establishing an 5S audit isn't as hard as you think it is. The power of a good audit is in its simplicity. The best way to ensure the score of your audit is to simply answer a couple of simple questions and to score on the 5 S's. Receiving instantaneous feedback is the best and most powerful feedback you can receive. On the internet, you can find a lot of 5S audits, but we recommend you to start with the simple version you see on the right of this page. Here you can see an template of an 5S audit. Please download the PDF file or the Excel sheet below to use during your 5S audit and see what it brings for you.
5S/5 tips
We also have 5 other practical recommendations for you to use during the application of audits:
Describe the audit areas well, and make sure the standards are known and visible;
Start with a high audit frequency of at least twice a week until a reasonably satisfactory status has been reached;
Have a healthy mix of people run the audit. Both staff from the relevant department and people with a fresh perspective. Train auditors in advance on running audits and "scoring" the observations;
Also invite staff from the department itself during 5S audit. It creates ownership and gives people the opportunity to be proud of their workplace;
Write down and score the results immediately, for example on a magnetic clipboard which you fix on the 5S board after the audit.
Another important recommendation for those who are line manager of a department; grab this opportunity to show your leadership. There's a number of names you can give it; Gemba Walk, Go and See, Line Tours, or 5S audit, it all comes down to the same thing. Your frequent, physical presence on the floor will bring benefits to your team, and most probably to the floor as well.
Good luck!